If a puppy seems like a handful, then you may want to consider our handsome 2.5 year old blue merle rough male collie named Ace. This gentle teddy bear of a collie is up to date on all his vaccinations, crate trained, leash trained, and debarked. All day he hangs out in the yard with ALL of our dogs here. However he would not be happy in a situation if another dog tried to dominate him. At feeding time all adults get fed together in a room and all adult dogs must "wait" in a "down" position quietly with their full food bowls in front of them. They cannot begin to eat until the "magic word" is given. Ace is one of the first to finish and was taught to not to even "think" about sneaking into someone else's bowl. (Well, he sometimes thinks about it on occasion.) Ace does wonderfully here but we must make room for our next generation of collies.

Although Ace is now in his "summer coat", when cooler weather arrives, he will have a majestic winter coat which will require proper care and maintenance. Ace is extremely bright and eager to please and will make a wonderful addition as a pet/companion. Please note that it is required for Ace to be neutered







Taliesen Collies
Quality without Compromise




Copyright © 2007-2016 by "Michael & Helen" • All Rights Reserved • E-Mail: info@brightmorecollies.com
Michigan Rough Collie Breeder of AKC Rough Collies & Rough Collie Puppies
in Sable & White, Blue Merle, Sable Merle & Tri-color Coat Colors
This page updated :
The dilemma of choosing a collie puppy or adult collie dog has been the topic of many family discussions, and the solution is as individual as your family. A common opinion is that when you start with a collie puppy you avoid any unwanted emotional baggage that an adult collie dog may have, and you can mold them to suit you lifestyle. For the most part this is true, however, there are several things you need to take into account with a collie puppy; one very important consideration is the amount of YOUR time that they will need. For example, if you work from 9am to 5pm five days a week, you are not really in an ideal position to take on a collie puppy. There are many natural puppy behaviors like digging, chewing and general all-round mayhem that you can usually overcome just by being there.

If you do not think you will have the time or the patience to train a collie puppy then you would be well advised to consider adopting an adult collie dog. More often than not, they have worked through their destructive behavior phase. The biggest advantage with adopting an adult is that you get to see the finished 'product' before you buy; there will be no surprises as to the size of the dog.

The biggest advantage of adopting an adult collie of any age is that they will bond very quickly and can easily adapt to a new environment. As rough Collie Breeders we recommend that you enroll in an obedience or training class right away so both of you learn how to communicate with each other.
Available
If you are interested in a Collie puppy, young adult, or adult Collie whether it is male or female, smooth or rough in any color (blue merle, tri-color, or sable & white) please write to us at helen@lassie.us and let us know.
If possible we will try to put you in contact with other Collie breeders in south-east Michigan.
May 16, 2014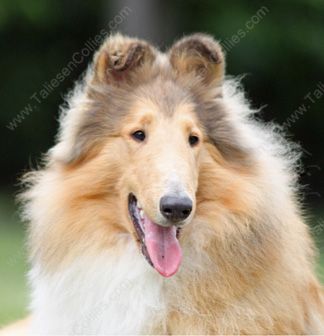 We do not have anything available at this time.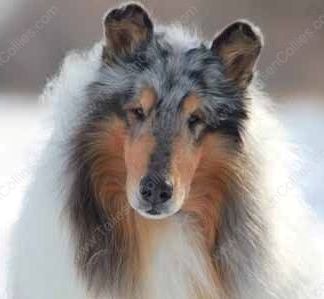 Sorry...